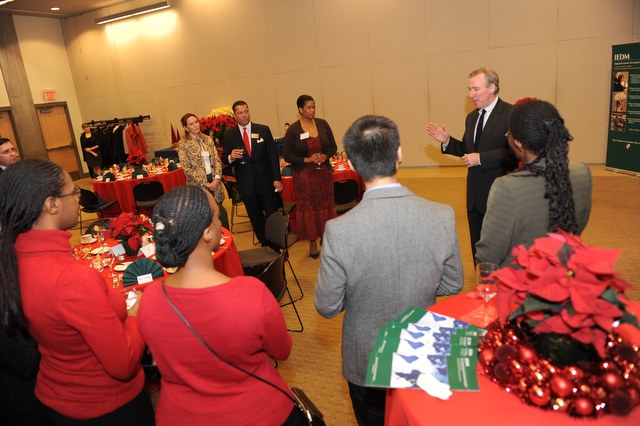 On December 9, 2011 the Integral Economic Development Program hosted the first annual Christmas banquet. The event was held on the campus of The Catholic University of America in The Edward J. Pryzbyla University Center.
Members of the IEDM Advisory Board, CUA faculty, spouses and students attended the banquet. The event provided an opportunity for the students to network with Board members and faculty. President John Garvey greeted the guests and addressed the group with words of encouragement. IEDM Advisory Board members in attendance included Ambassador Alfonso Quiñónez, Daniel R. Addison and Dr. Paloma Duran who traveled from Spain just for this event. Others present included Dr. Hanna H. Marks, Associate Dean for Graduate Programs, Arts and Sciences and Dr. John Convey, Professor of Education and former Provost of the School of Education at Catholic University.
Music for the occasion was provided by Regina Conley, a pianist, who is currently attending CUA. It was a festive and joyful evening that was enjoyed by all.
Related News