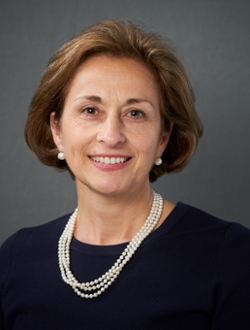 Department
Economics
School
School of Arts and Sciences
Expertise
Integral Economic Development
Family and Economics
Population and Economics
International Finance
Economic Integration
Languages
Spanish, French
Dr. Maria Sophia Aguirre is an ordinary professor of economics who specializes in international finance and economic development. She is the founder of the Integral Economic Development Programs and teaches courses in the area of Macroeconomics, International Finance, Economic Development, Family and Economic Growth, and the interaction between Ethics and Development.
Dr. Aguirre earned a Ph.D. in economics from the University of Notre Dame, and joined the faculty of The Catholic University of America in 1994. She also has held appointments at the University of Chicago and Northwestern University. Professor Aguirre is an expert in the areas of exchange rates and economic integration, as well as on theories of population, resources, and family as it relates to economic development and growth. Her work has been published in numerous economic journals. She also is the author of Determinants of Economic Growth: The Case of Guatemala, and of several book chapters. Recognizing her contributions to the field, she has received several prestigious awards, she is a Fulbright Scholar, and has twice been selected for inclusion in Who's Who Among America's Teachers.
Dr. Aguirre's work has been captured by media around the world. This includes, among others, NewsWeekly, La Nación, El Observador, National Review, CNM News, El Universal, The Voice Today, BBC News, PBS, La República, LaPrensaGráfica, PrensaLibre, Siglo21, El Periódico, Wall Street Journal, The Washington Post, Radio Samora, Guatevision, and the Meridian Magazine.
Dr. Aguirre has testified on issues related to population, family, and health before the U.S. Congress, the United Nations, and parliaments in Central America, Africa and Canada, among others. She also has advised several U.S. Congressional Representatives and U.N. delegates on economic aspects of U.N. documents. She has also advised several governments on women's education, family policy, and health. Professor Aguirre was a presidential appointee to the U.S. Advisory Commission on Foreign Diplomacy. She is a member of the Commission on the Status of Women in the Professions, a working group of the American Economic Association. She also is actively involved with leadership programs for young women.
"

Today there is a great need to accomplish sustainable economic development through an integral approach. This requires not only technically efficient interaction, but the identification of good channels of relations that render effective and sustainable economic outcomes

"