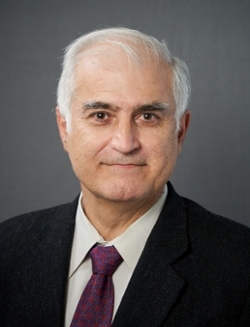 Department
Economics
School
School of Arts and Sciences
Expertise
International Development
Financial Management
Governance
Corporate Governance
International Business
Global Strategy
Languages
Farsi
Professor Nowroozi joined the faculty in January 2016 and teaches courses in managerial economics, international trade, and accounting concepts in the IEDM program. He is also an adjunct professor at the Trinity Washington University responsible for teaching graduate-level courses on global operations and strategy and international relations. Professor Nowroozi, a CUA alumnus, is a former staff member of the World Bank, where he spent 24 years working on projects and policies that help improve lives in developing countries.
He was involved in the review and implementation of over 300 investment and policy-based projects supported by the World Bank in West Africa, East Asia, and Middle East and North Africa, including the policy-based operations in Korea and Thailand after the 1997 Asian crisis to support reform of their financial and private sectors.
In addition, he managed several technical assistance projects, including the establishment of the Thai Institute of Directors in Thailand after the 1997 Asian Crisis. More than 6.000 Thai directors have completed the Institute's training, and the work of the Institute has led to the establishment of similar training programs in Korea, the Philippines, Indonesia, Vietnam, and China.
During his career at the World Bank, Professor Nowroozi was also involved with knowledge sharing and learning events for government officials, policy makers, and private sector managers in countries such as Indonesia, Korea, Thailand, Malaysia, Philippines, and Vietnam. He has led preparation of several country-level publications on corporate governance and public financial management.
He also led the World Bank's effort to establish three Hills Governance Centers at the Asian Institute of Management in Manila, Yonsei University in Seoul, and Tsinghua University in Beijing in partnership with the Center for International Strategic Studies to conduct research, share knowledge, and promote good practices on good governance.
Prior to the World Bank, he was the Chief Financial Officer of B&C Inc. and Vice President of Finance for TRM Development in Northern Va.
Professor Nowroozi holds an MA from the Catholic University of America in accounting. He holds a CPA license in the State of Virginia.
"Economic growth is about improving people's lives. As future leaders and practitioners in the private or public sectors, students must prepare to contribute to more inclusive and sustainable growth at home and abroad."– Behdad Nowroozi